Are you ready to bid the bad weather goodbye in favor of the perpetually sunny skies? If so, consider exploring the Florida lifestyle. Whether you're looking for a laid-back community or a more bustling city to call home, we've got some options in mind to help you figure out which neighborhood is right for you. Read on to learn about the many appealing qualities these 12 Florida communities have to offer.
1. South Ponte Vedra Beach
Located between Ponte Vedra Beach and St. Augustine, South Ponte Vedra is a picturesque community with scenic views. The two-lane A1A runs through this secluded neighborhood, with the ocean on one side and the Intracoastal waterway on the other. This makes South Ponte Vedra the perfect option for those who want to experience the epitome of a beach lifestyle.

The atmosphere in this community can best be described as laid-back, friendly, and private. A drive through this peaceful neighborhood reveals varied styles of attractive waterfront single-family homes. The close proximity of the beaches is great for those who enjoy surfing or who want to catch spectacular views of the sunrise of sunset.
2. Ponte Vedra Beach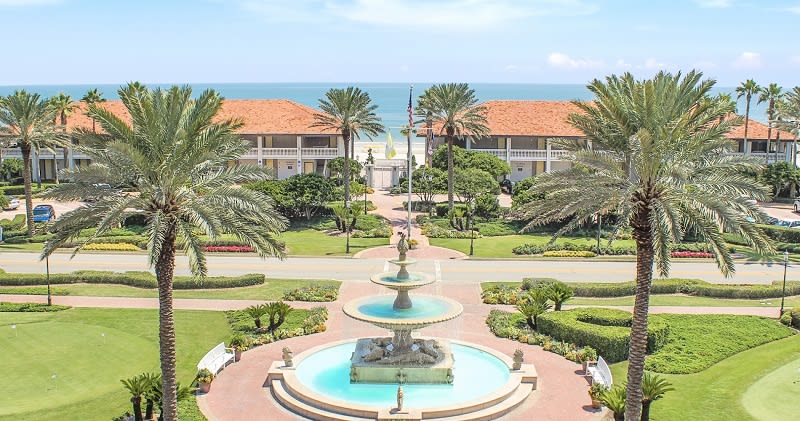 Credit: Ponte Vedra Inn & Club
A prominent resort town, Ponte Vedra Beach offers the best of coastal living. Ponte Vedra Beach was originally formed in the early 1900s and served as a mining town. Since then, it has become a highly sought-after place to purchase real estate or escape for a low-key vacation. This seaside community features luxury homes, excellent schools, and pristine beaches.

And that's not all Ponte Vedra Beach has to offer. Residents who are lucky enough to live here enjoy a resort lifestyle with golf, tennis, and illustrious amenities. The landscaping in this scenic haven includes white-sand beaches, and approximately 73,000 acres of protected forests and tidal lagoons. Ponte Vedra Beach has plenty to offer its nearly 30,000 residents. Enjoy an evening of live music at the Ponte Vedra Concert Hall or improve your golf game at TPC Sawgrass, one of the world's most famous courses. This exciting beach town has something for everyone! 
3. Old Ponte Vedra Beach 
Old Ponte Vedra Beach is a neighborhood nestled within Ponte Vedra Beach where the locals call "between the clubs". The origins of this community can be traced back to 1940; since then, it has continued to thrive and flourish into the illustrious community it is today. Located within walking distance of the beach and a handful of private beach clubs, Old Ponte Vedra Beach is one of the area's most sought-after places to call home. It spans over three blocks between State Route A1A and the Atlantic Ocean. This neighborhood features spacious homes carefully situated on perfectly manicured properties. These homes often provide sweeping views of the area's famous golf course and lagoon. Residents here enjoy the small-town charm, upscale dining, and impeccable golf courses. 
4. Sawgrass Country Club
Located within Ponte Vedra Beach, Sawgrass is an established gated community. It also happens to be the golfing capital of Florida's North Atlantic coastline which all expertly surrounds a private golf course and a brand new, award winning Country Club and Beach Club. It goes without saying that a large part of life in Sawgrass centers around golf. 
5. Vilano Beach
Vilano Beach is adjacent to South Ponte Vedra Beach and is considered a quiet, unincorporated community. This quaint community is filled with charming surprises, such as the tiled fountains and retro Art Deco aesthetic. Residents here enjoy an idyllic lifestyle with close access to the water and a laid-back atmosphere. There's plenty to do here, including beachfront dining, great surfing, and an exciting calendar of special events. Be sure to check out the Vilano Beach Pier, located nearby on the river side of the island. This pier is one of the many excellent fishing spots in Vilano Beach.
6. Nocatee
Nocatee, which is nestled in northern St. Johns County, is known for being a family-friendly suburban community. The town was approved for development in 2001 and has since grown to consist of 22+ neighborhoods. Nocatee, a master-planned community, offers a broad range of homes that appeal to individuals of all ages and lifestyles. Retirees, young professionals, and families alike make their homes in Nocatee.

Being such a new town, many of the homes are new construction and designed by leading contemporary home builders. Nocatee has a population of approximately 8,000 residents, which creates a small-town, community-oriented atmosphere. The Nocatee Town Center is a popular local spot that overflows with options for restaurants, retailers, and services. Additionally, living in Nocatee conveniently puts you between Jacksonville and St. Augustine. That means regardless of which direction you go, there's always something fun right around the corner. 
7. Intracoastal
Nestled on the east side of Jacksonville, The Intracoastal Waterway is a paradise for boaters, fishermen, or anyone who wants to be close to the water. This laid-back community primarily features stunning waterfront homes, giving residents easy access to the water. Additionally, many homes feature private docks and slips, which enable residents to access the water directly from their backyard — talk about a dream!

Many homes along Intracoastal are located within secluded gated communities, providing residents with a private lifestyle. Residents who are lucky enough to live within these gated communities have access to an array of top-notch amenities. In addition to the impressive homes dotted along the 40 miles of Intracoastal Waterway, there's a variety of restaurants here, too.
8. Neptune beach
Situated on the northeast coast of Florida, Neptune Beach is a highly sought-after place to purchase real estate. The city is bound by Atlantic Beach to the north and Jacksonville Beach to the south. This small, serene beachside community is home to approximately 7,500 residents. Homes here consist of mid-century homes, contemporary homes, waterfront properties, multi-family, and single-family homes. This exciting mix of homes enables home buyers to find the property that suits their wants and needs.

Although Neptune Beach spans just over 2.5 miles, it has an abundance of things to do. Residents and visitors alike appreciate the small-town charm while simultaneously enjoying all the amenities of a large city. The stunning coastline provides ample opportunities for everything from waterfront dining to outdoor recreation. 
9. Jacksonville Beach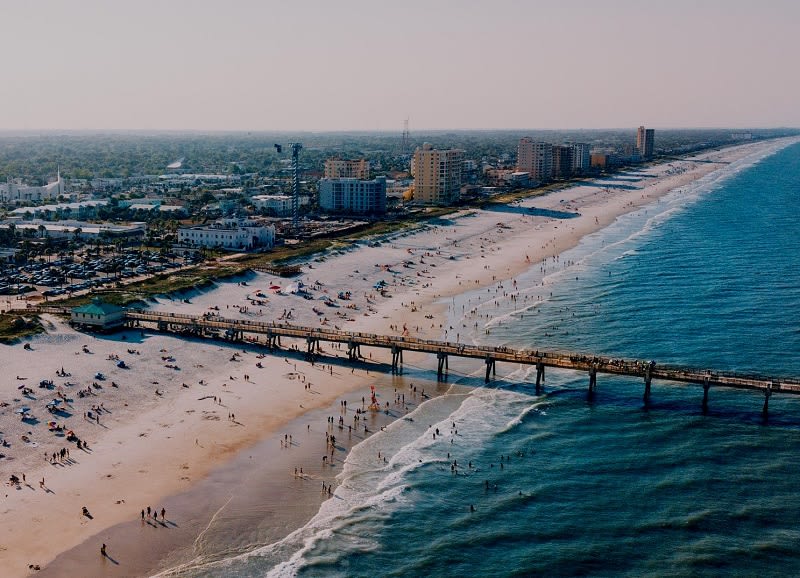 Credit: Jacksonville Beach
If small-town life doesn't appeal to you, consider exploring all that Jacksonville Beach has to offer. This vibrant community has approximately 23,000 residents. Homes here vary greatly, but coastal, mid-century modern, and new contemporary styles are common here. Jacksonville Beach boasts vast stretches of pristine beach, trendy restaurants, a freshly designed golf course, a well-known fishing pier, and endless water activities. If you're new to the area or perhaps simply want to learn more about this fascinating place, stop by the Beaches Museum & History Park. It's jam-packed with interesting exhibits and insights into the city's rich history. All that to say — this happening place has something for everyone. 
10. Palm Valley
Palm Valley is located just 10 minutes away from the beach and situated between the Atlantic Ocean and the Intracoastal Waterway. This suburban community is known for its excellent schools, upscale dining, and stately homes. The majority of homes here are newer constructions and feature contemporary designs. A small-town feel and friendly residents will make this community feel like home in no time. With all that in mind, it's no surprise that Niche rated Palm Valley as the number two best suburb to live in Florida. 


11. Atlantic Beach
Located in northeast Florida, Atlantic Beach has a plethora of appealing qualities. This coastal paradise has a rich history and is believed by many scholars to be the first permanent Native American settlement in the United States. Atlantic Beach is the northernmost of Jacksonville's three beach communities. Varied architectural styles are present here, ranging from single story homes to stately mansions. Here you will find miles upon miles of immaculate beaches, luxury housing options, and plenty in terms of fine dining, shopping, and live entertainment. With so much to see and do, life here is anything but boring. (Image Credit: Tripadvisor)

If you are looking for homes for sale in South Ponte Vedra, contact Kim Martin Fisher + Jennifer Martin Faulkner today. As some of the most sought-after real estate agents in the area, this duo are experts in Atlantic Beach real estate. Their extensive knowledge and dedication to client satisfaction will help you find the perfect property.