Florida is home to some of the best beaches in the country. Clear water, soft sand, and fun beach communities make it an ideal place to visit. Jacksonville is located in Northern Florida and is the most populous city in Florida. If you're looking to escape the hustle and bustle of the city, consider visiting one of the below beach towns. Each has something unique and memorable to offer.
Atlantic Beach
If you want a mix of beach, shopping, and dining, Atlantic Beach is a great option. Atlantic Beach is a historic spot, boasting miles of coastline. In the 1800s, it was the first year-round Native American settlement in the US. Today, it has homes, condos, small hotels, and commercial areas.

The beach itself is generally very laid back and relaxing. It's wide, allowing plenty of space for people to relax or stay active. Along the beach's Northern border, you'll find Hanna Park — a popular spot for surfers, beachcombers, campers, and bicyclists. If you're looking to grab a bite after a long beach day, head to Poe's Tavern - Atlantic Beach. This gastropub serves up "elevated burgers" and other pub fare and has a cool, brick aesthetic. For some seafood, try RagTime Tavern, Seafood & Grill.

When it comes to shopping, Atlantic Beach has some great options. The Atlantic Beach Arts Market features over 90 local artists and vendors and is a great place to buy handmade gifts and souvenirs. For a more commercial experience, head to Atlantic Village — you'll find banks, restaurants, and other local businesses.
Neptune Beach
Right next to Atlantic Beach, you'll find Neptune Beach. While Neptune also has a fun shopping and dining scene, the town's vibe is very casual and laid-back. Miles of hard-packed, pristine sand make it a great spot to enjoy the coast's natural beauty via bike ride. The waves are also ideal for surfing.

When you wander into town, you'll find some trendy surf shops, like Jax Surf and Paddle and Aqua East Surf Shop. Pick up a new bathing suit or surfboard, and you'll be ready for a day of beaching.

When hunger strikes, head to the North Beach area. Between Atlantic Beach and Neptune Beach, this stretch of road is packed with family-friendly restaurants. Try North Beach Fish Camp for some lively, modern seafood. Flying Iguana Taqueria & Tequila Bar is a bustling spot, with over 100 tequila options — perfect for some end-of-day fun!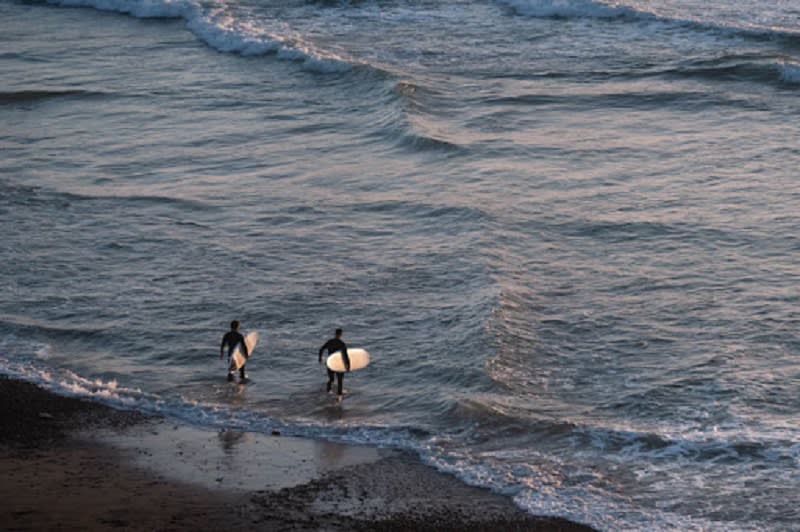 Jacksonville Beach
Jacksonville Beach is lively, crowded, and full of activities. If you're looking for activity and fun over quiet and relaxation, Jacksonville Beach is the place for you! Over 3.7 miles of wide, sandy beaches are at your disposal for beach games. Volleyball is big here, and the beach often hosts volleyball tournaments. Surfers love the waves here, so you might also catch a surfing tournament. If you're looking to try water sports, you're in the right place. Surf Into Summer offers surfing lessons, as does Thompson Surf School. For those who are hoping to relax, it's certainly possible. With gorgeous sand and water, you'll fall into beachy serenity in no time.

One of the most identifiable parts of Jacksonville Beach is the impressive pier. This famous fishing pier is enormous, so when you spot the pier, you'll know you're in the right spot!

If you get to the beach early and want to grab some brunch, head to Jax Beach Brunch Haus. This colorful spot has a delicious brunch and a full bar. Need to catch the big game? Burrito Gallery Jacksonville Beach has all the TVs you need, as well as delicious Tex-Mex grub.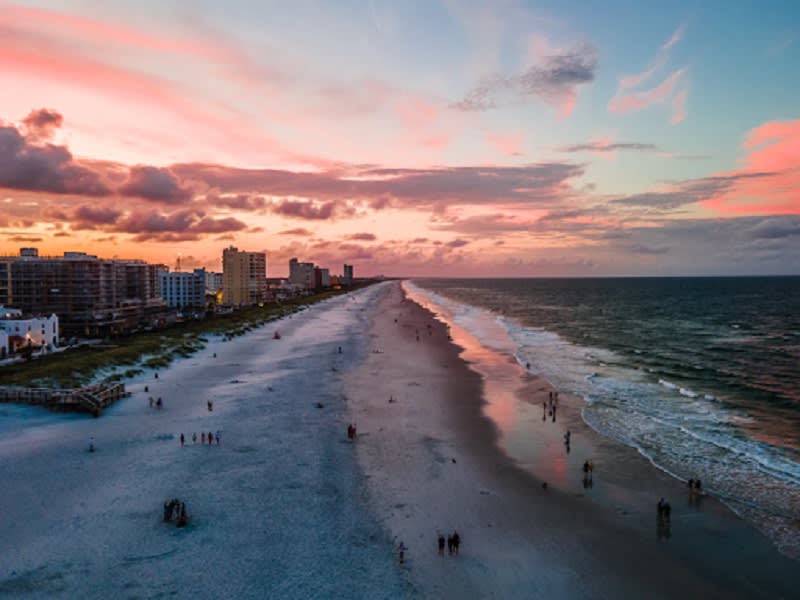 Ponte Vedra Beach
Ponte Vedra Beach is an excellent spot for people looking to "getaway." Named for the Spanish explorer Ponce de Leon, this historic beach is also home to the impressive Ponte Vedra Inn and Club. This luxury inn is just steps from the beach and has a gorgeous, 36-hole golf course. Enjoy tennis courts, beautiful pools, and top-rate dining experiences.

You don't have to be a guest at the inn to enjoy the beauty of Ponte Vedra Beach. The beach is public and has lovely sand and water. It's known for the shark teeth that often wash up on its shores — great for collectors.

For all things dining and shopping, you'll want to head to the Shoppes of Ponte Vedra. This outdoor shopping mall has it all, from delicious Mexican food at Anejo Cocina Mexicana Ponte Vedra to major retailers. It's a one-stop shop!
Mayport Beach
If you're a surfer, you won't want to miss Mayport Beach. Mayport is a quaint, historic town with a lot to its name. The Naval Station at Mayport is here, as well as the Marine Science Education Center. If you want to catch some waves, head to "The Poles" at Hanna Park. This section of the ocean has some of the best swells in the area. Non-surfers can enjoy the pristine sand and lovely waters.

Mayport has some excellent seafood options. Singleton's Seafood Shack is exactly that — an old-timey shack that serves some of the best seafood in the area. You'll also want to explore Safe Harbor Seafood Restaurant, which gets its fish from the nearby seafood market of the same name.
American Beach
Located north of Jacksonville on Amelia Island, you'll find the historic American Beach. Founded by Abraham Lincoln Lewis in 1935, it was the first Black beach resort in the country. Since then, it's developed into a lively spot with shops, restaurants, and the American Beach Museum. Take a visit to learn about the history and journey of American Beach. It's an important landmark on Florida's Black Heritage Trail.

The sand is lovely here, with many impressively tall dunes. After a relaxing beach day, head to Bob's Steak and Chop House for an upscale steak or some seafood, or check out Omni Amelia Island Plantation Resort — their restaurant, Marsh View Bar and Grill, has casual Southern cooking with a view.

Looking for homes in Ponte Vedra, Neptune Beach, Atlantic Beach, or Jacksonville Beach? Contact . Kim Martin-Fisher and Jennifer Martin Faulkner look forward to helping you find a home you love.