Going to a day spa is a luxurious experience, whether you're celebrating something or just looking to relax. Now going to a day spa at the beach is a whole new level of cloud nine. You should never feel guilty for treating yourself to a spa treatment. In fact, there are many benefits to going to a day spa besides feeling completely relaxed.

For example, after going to a day spa, you're likely to feel less stressed when you leave. If you're feeling overwhelmed about life or something specific, booking a day at a luxurious spa at the beach is a perfect way to decompress. If you're visiting the beach for a family vacation and need some time away from the kids, give yourself a few hours at one of these luxurious spas, and you'll head back feeling refreshed and renewed. Whether you're looking for a girls' day or romantic outing, these spas have amazing bonding experiences for all friendships and relationships.

If you struggle with a solid night's sleep, a trip to the spa can help you catch valuable Z's. Not only will your mind be more at ease, but so will your body. Massages help your body relax, causing your blood pressure to lower and contributing to a better night's sleep.

General aches and pains are part of our everyday lives, but they don't have to be. There are several spa treatments that can help relieve this pain. For example, hot stone massages and deep muscle massages are all great ways to relieve those aches and pains. CBD massage add-ons are available at several spas and are an additional way to bring some relief to your body.

Finally, a trip to the spa is guaranteed to increase your happiness. Not only are you dedicating time to yourself, but day spas are scientifically proven to release serotonin, the hormone associated with happiness. Therefore, you won't just feel like you're on cloud nine in the hours following your trip, but even in the following days, you can feel the benefits of your treatments.

By now, I'm sure you're ready for a little self-care. Here are some of the most luxurious day spas for you to check out when you're in the Ponte Vedra area.
The Sawgrass Spa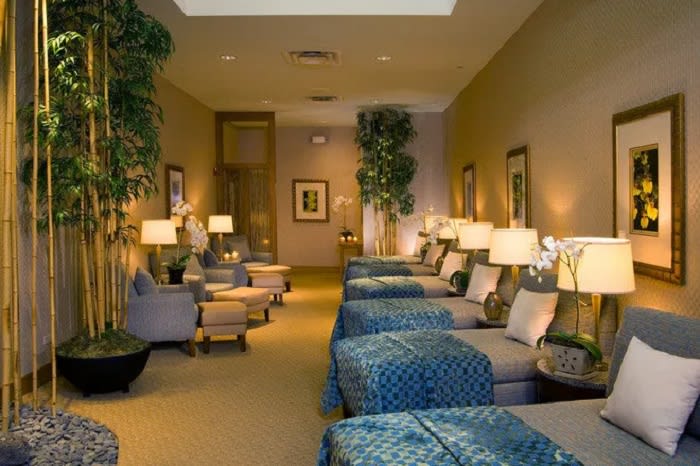 Credit: 10 Best
Location: Ponte Vedra Beach, FL

The Sawgrass Spa is an oasis of well-being. This 25,000-square-foot luxury spa features 19 private rooms. Whether you're in Ponte Vedra on vacation or you call it your home, The Sawgrass Spa welcomes you to relax with them. The team is made up of experienced spa therapists who offer a wide range of services. Some of these services include:

◾ Massage therapy
◾ Hydrotherapy
◾ Reflexology
◾ Body wraps
◾ Skincare
◾ Couple massages

If you're looking for a light snack amidst your pampering, The Sawgrass Spa has offerings in-house. The Soothies Café offers guests a tantalizing menu of energizing drinks and light, healthy dishes that will leave you feeling full and well.
The Spa at Ponte Vedra Inn & Club
Location: Ponte Vedra Beach, FL

When you visit The Spa at Ponte Vedra Inn & Club, you'll delight in beautiful surroundings and world-class pampering. The Spa at Ponte Vedra Inn and Club believes that inner and outer balance requires the right blend of atmosphere, expertise, and variety. That's why they offer a large menu of services consisting of over 100 different offerings ranging from intensive massages to gentle facials. You can make your day at the spa a whole adventure with the spa dining experience served at the Spa Café. After a day of treating your skin, you can treat your body to some healthy and delicious meals with selections like salads, fish, and gluten-free options. Their full list of spa services include:

◾ Massage treatments
◾ Body treatments
◾ Aesthetic treatments
◾ Hands and feet therapy
◾ Hair services
The Spa at One Ocean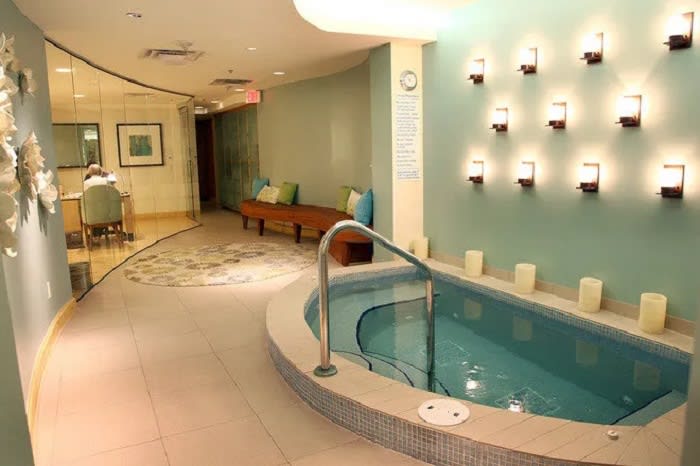 Credit: 10 Best
Location: Atlantic Beach, FL

The Spa at One Ocean's goal is to create a place that feels like an escape, yet also home. They've done just that through their award-winning Atlantic Beach spa. It's a space of pure tranquility for guests to relax in. Their extensive and descriptive spa menu features several services such as:

◾ Massages
◾ Body treatments
◾ Facials
◾ Enhancements
◾ Nail services

If you're struggling to put together a day you'll love, check out some of their packages:

◾ Ocean Breeze Refresher: Includes a massage and a facial
◾ Men's Defense: Includes a Wind Surfer Massage followed by a men's facial—two hours of pure bliss
◾ Deep Blue: 5 hours consisting of their customized Earth & Sea Scrub, Ocean Mist Facial, 60-minute Seashell Massage, and a Beachcomber Manicure & Pedicure
◾ Specialty Therapy: Spa at One Ocean will provide you with treatments to complement your skin and body type
Moroccan Hammam & Day Spa
Location: Jacksonville Beach, FL

The Moroccan Hammam & Day Spa is a multi-award-winning spa located in Jacksonville Beach, Florida. It's known for its natural, organic, and ethically sourced products and unique body treatments. The Moroccan Hammam & Day Spa was voted "Best Jacksonville Day Spas by Expertise" for the past three years. They've also received awards for their massages in the luxury Hammam experience. Some spas other unique offerings include:

◾ Algotherapy
◾ Vinotherapy
◾ 24K gold and pear body wraps
◾ Authentic Hammam

The Moroccan Hammam & Day Spa's philosophy is to provide an escape to help reduce stress, restore vitality, and revitalize the entire body system by calming the mind and body in a space inspired by the soothing colors and decor of Morocco's Blue City of Chefchaouen. If any of that sounds appealing to you, book an appointment with them now.
Picasso Day Spa & Salon
Location: Jacksonville Beach, FL

Picasso Day Spa & Salon, located in Jacksonville Beach, Florida, is a full-service salon with endless offerings. Their array of services are designed to help you relax and leave feeling rejuvenated. Picasso Day Spa & Salon delivers high-quality treatments in a relaxing spa and salon setting. Their services include:

◾ Facials
◾ Peels
◾ Waxing
◾ Keratin treatments
◾ Lash tinting and lifting
◾ Massages
◾ Couple massages
◾ Skincare
Spavia Ponte Vedra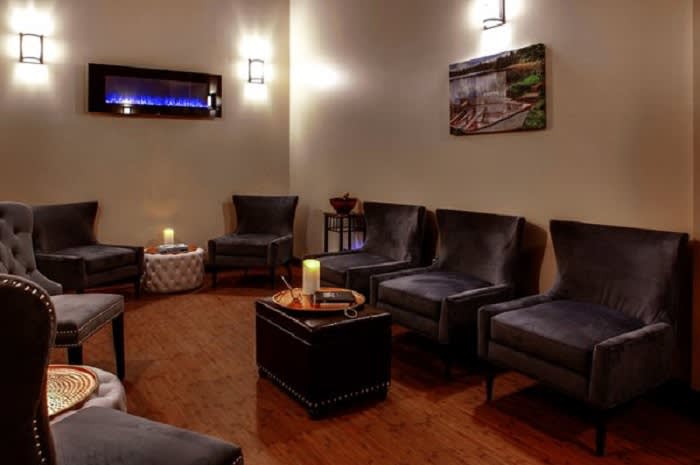 Location: Nocatee, FL

At Spavia Ponte Vedra, the day is all about you. Here, you can select the treatments that best suit your needs, guaranteeing you a day of relaxation. Spavia's team of therapists and estheticians provide each spa treatment in the most personalized, professional manner possible. When you arrive at the spa, you start your experience by relaxing and unwinding in the tranquil Spavia retreat room, where you're greeted with a spa robe, sandals, and a warm aromatherapy neck pillow. At Spavia, you can fill your day with your favorite services. If you're not sure what you'd like best, the team of professionals can help you craft the most relaxing day for you. You'll leave Spavia Ponte Vedra looking and feeling your best. If you live in the area, check out the Spavia memberships, so you can say yes to self-care all year long. If you're visiting the area, check out their packages for you or your group. Spavia's basic services include:

◾ Massages
◾ Beauty treatments
◾ Waxing
◾ Skincare treatments
◾ Body treatments
◾ Men's treatments

If you're looking for a special treat or to enhance your basic service, Spavia has additional offers to elevate your experience. These offers include:

◾ A Spalebration: Celebrate with a group of friends
◾ CBD enhancement: Add this service to any massage to provide added relaxation and immediate relief from aches, pains, and inflammation.
Youthful Medical Spa
Location: Palm Valley, FL

Youthful Medical Spa strives to make looking and feeling good an everyday reality instead of a special occasion. Specializing in anti-aging procedures, you'll leave the spa with glowing skin. As Jacksonville's premier medical spa for the past 13 years, Youthful Medical Spas trained providers and estheticians offer a wide range of services aimed to restore youthfulness and radiance. With a strong commitment to detailed protocols, training, and discipline, you'll feel comfortable regardless of what treatment you receive. Some of Youthful Medical Spas treatments include:

◾ Aesthetics
◾ Celluma
◾ Facial
◾ Microderm
◾ Chemical peels
◾ Microneedling
◾ HydaFacial MD
◾ Oxygen hydration treatment
◾ Injectables
◾ CoolSculpting
◾ Laser hair removal

Regardless of what you choose, you'll be greeted by the trained team who will work with you to create an individualized treatment plan and help you achieve your ultimate goals.

If you're looking to make trips to the day spa at the beach a regular thing, check out the homes in Ponte Vedra. Whether you're looking to make beachside living your full-time lifestyle or looking at purchasing a vacation home, Kim Martin-Fisher real estate can help turn your dream into a reality. Kim and Jennifer are extremely knowledgeable about the market in several exclusive beachside neighborhoods. From Ponte Vedra Beach to Palm Valley real estate, KMF real estate is guaranteed to provide you with an unparalleled luxury real estate service.