When in Florida, cocktails are always a good idea. Whether you've spent the day traveling to the coast or you need a refreshing pick-me-up after laying in the sun all day, a fresh cocktail is a perfect way to end your day. Here are some of the most refreshing cocktails to sip on while beachside. You'll probably notice that most of these beachside favorites are made with rum. Rum pairs well with the fruity and tropical flavors you'll be craving at the beach, but there's also some history behind the liquor, including a shortage and a surplus! When you fall in love with a new drink, you're sure to be getting them from the closest Tiki Bar. Don't worry—we've got you covered when you're exploring the Ponte Vedra area with places that know how to make it best.
MAI TAI
● Rum
● Orange Curacao
● Fresh lime juice
● Rock candy syrup
​​​​​​​● Orgeat syrup
The Mai Tai is known as one of the world's best "tiki drinks," perfect for the beach. The creators were known for creating tiki culture, a blend of Polynesian and the Caribbean. Tiki drinks aim to transport drinkers to the tropics through a single sip. This is exactly what the famous Mai Tai cocktail does. This drink was created in 1944 as a way to showcase all that high-quality rum has to offer. The refreshing, rum-forward cocktail became so popular that it depleted the world supply of rum in the 40s and 50s. It's a classic that you can find anywhere, but knows how to make the best Mai Tais in Ponte Vedra.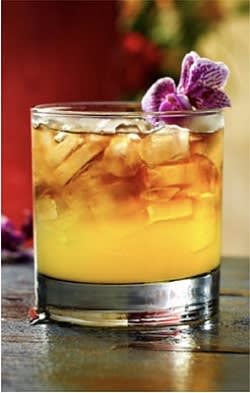 PAINKILLER
● Rum
● Pineapple juice
● Orange juice
​​​​​​​● Cream of coconut
The Painkiller cocktail is a twist on the traditional piña colada. It's a fruity drink guaranteed to "cure you," which its name suggests. This drink was created in the British Virgin Islands in the 1970s in an effort to bring a refreshing beverage to beachgoers, and it sure does! This drink tastes like vacation. It's easy to make and even easier to drink. It's often referred to as the Pusser's Painkiller because it was originally made with only the Pusser's brand of rum. Ponte Vedra is home to a , so be sure to try their very own Painkiller and seaside food when you're out and about!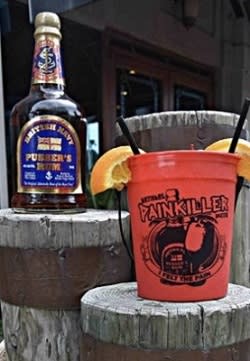 Pineapple Infused Vodka Mule
What's in it:
​​​​​​​
● ​​​​​​​Vodka
● Fresh lime juice
● Pineapple juice
​​​​​​​● Ginger beer
The Pineapple Infused Vodka Mule is a tropical twist on the traditional Moscow mule. The traditional Moscow mule has been passed down through generations. The drink originates from a copper company in Russia, hence the traditional copper mugs that mules are often served in. Sophie Berezinski's dad ran this copper company where she developed the design. Shortly after, she migrated to the United States, where she found an owner struggling to sell his vodka and another owner struggling to sell his ginger beer. That's when the three of them worked together to develop the famous Moscow mule, combining all of their trades. If that sweet story doesn't make you want to go out and order a mule, I don't know what will. If you're looking to honor the tradition beachside, the pineapple-infused vodka mule is the perfect way to do so. The combination of flavors is refreshing, light, and simply perfect for a hot day. If you're looking to sip on this cocktail with dinner, knows how to put the tropical twist on the traditional mule.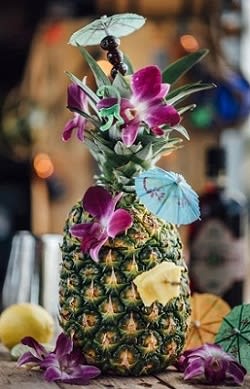 PIÑA COLADA
What's in it:

● White rum
● Coconut cream
● Heavy cream
● Fresh pineapple juice
The Piña Colada is another favorite loved by all ages when made sans-alcohol. It originates from Puerto Rico, where a bartender created this famous concoction. He mixed up the ingredients that stand today, and it was an instant summer hit. In 1978, the Piña Colada was declared the official drink of Puerto Rico. Since then, twists and variations to the original Piña Colada have been made, but nothing beats the taste of a traditional Piña Colada beachside.

Craving a Piña Colada after you've left the beach? Head to your local Starbucks and order this secret menu item. You can always add rum once you get home. To order the Piña Colada, ask for a Crème Frappuccino with:

● Coconut milk
● Pineapple infusion tea
● Extra ice
​​​​​​​● An extra pump of crème base
HURRICANE
What's in it:

​​​​​​​● Rum
● Hurricane cocktail mix
​​​​​​​●An orange and a cherry
After World War II, the United States found itself with a surplus of rum. A liquor that was once hard to come across was mass-produced during the struggles and pain of wartime. To get people to drink up the supply of rum, the Hurricane was created. Feeling this pressure, George Oechsner, Jr. came up with the perfect way to use up the rum surplus. A traditional Hurricane is a sweet and tropical beverage—you're sure to notice the passion fruit and sugar-tinged flavor! To complete the cocktail, the delicious beverage is poured into a glass resembling a hurricane lamp.
RUM RUNNER
What's in it

​​​​​​​● Light rum
● Dark rum
● Blackberry liquor
●Banana liqueur
● Pineapple juice
● Grenadine​​​​​​​
The Rum Runner is another cocktail that was created at a tiki bar, this time in Florida, making it a beachside favorite. It was named after the "Rum Runners" that lived in the Florida Keys many years ago. It's another cocktail that was created in order to use up the excess rum and make room for new inventory. A traditional Rum Runner gives off a tropical flavor due to its fruity ingredients. After a long day by the shore (or even midday, we don't judge), you can enjoy this cocktail shaken or blended. How could you drink beachside without ordering this Florida-inspired cocktail?
STRAWBERRY DAIQUIRI
What's in it:

​​​​​​​● Rum
● Lime juice
● Simple syrup
​​​​​​​​​​​​​​● Strawberries​​​​​​​
A Strawberry Daiquiri is a summertime favorite for all ages. When served to adults, a strawberry daiquiri is a refreshing, rum-based beverage. Surprisingly, this cocktail is made with rum, this time due to the surplus of rum and shortage of gin. An American engineer, Jennings Cox, came up with this concoction. He named it after a nearby port town, with ties to his early times in Cuba. It was initially created as a shaken beverage, but in the 20s, a bartender in Havana perfected the drink as we know it today by blending the original ingredients with shaved ice. makes one of the best strawberry daiquiris in Ponte Vedra, so after you try their Mai Tai, go for the daiquiri. You're guaranteed to have a fun night at Pusser's!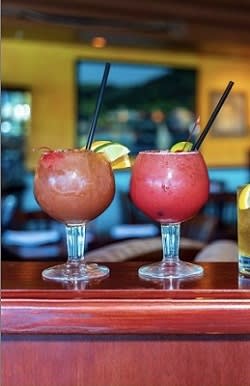 SEX ON THE BEACH

What's in it:

​​​​​​​● ​​​​​​​Vodka
● Peach schnapps
● Cranberry juice
​​​​​​​​​​​​​​● Orange juice​​​​​​​
Finally, the Sex on the Beach cocktail is clearly made for beachside sipping. It's the perfect beverage if you're looking for a relaxing and refreshing drink. This popularized drink can be tied back to a Florida bartender named Ted Pizio. History and stories say that he was challenged to sell the most peach schnapps in the area, which is where the drink's creation came in. He named the cocktail after what he felt the reason tourists were visiting the beach. It was a great marketing tactic to draw spring-breakers to this beverage and has stuck around ever since. Its sunny and layered appearance makes it aesthetic and Instagram worthy for many beachgoers.

If you're looking to make this beachside lifestyle a reality, Kim Martin-Fisher real estate. This team devotes itself to ensuring each customer receives a high level of care and personal attention. With over 38 years of experience and luxury real estate services, this team has been ranked as the top real estate team for two years now. Whether you're looking at Ponte Vedra condos or 32082 luxury homes, this team will deliver. What are you waiting for? It's time to explore all that Ponte Vedra, Florida has to offer, including some delicious beachside cocktails.