Living in Florida comes with many perks, one of the best being beautiful weather year-round. Take advantage of this by making your backyard an oasis for relaxation and entertainment. These six upgrades are sure to elevate your space to the next level.
Pool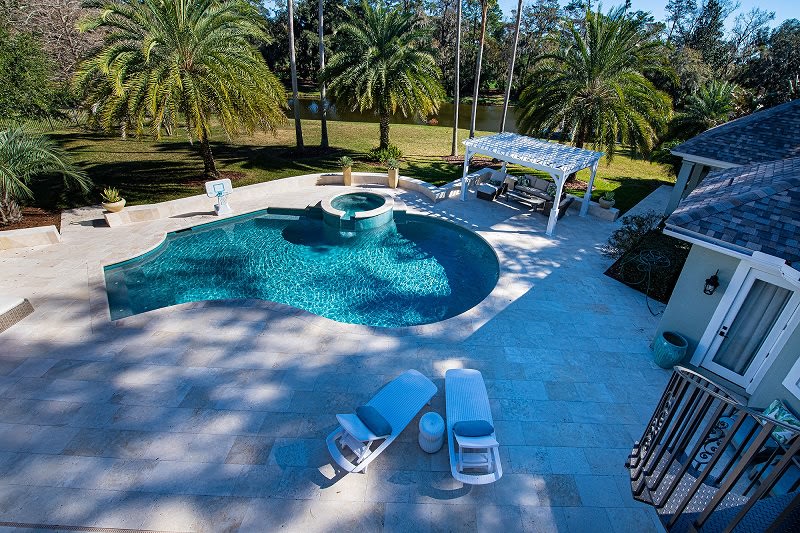 An outdoor pool is unquestionably the most popular and transformative backyard feature, and with good reason. This investment can create a resort-like experience in your own backyard. Sticky, hot days become enjoyable with the refreshing experience a pool can afford, and family and friends can easily spend hours of fun and relaxation in the water. Beyond that, a pool can boost a home's value by as much as 7% in a high-end neighborhood located in a warmer climate.

A standard backyard pool is always a delight, but there is plenty more customization and features you can add to make it stand out. Diving boards and water slides make the area even more fun, while hot tubs and tiki huts create a more luxurious experience. There are even more possibilities, such as a swim-up bar, which can make your outdoor pool truly remarkable.

To install a pool properly to one's specifications, many homeowners begin the process in early winter to ensure it will be ready to enjoy by spring and summer. Consulting with a contractor is a must, as is ensuring the pool conforms to the requirements outlined by local ordinances. The time and investment will more than pay off since your pool will bring entertaining possibilities to another level.
Outdoor Patio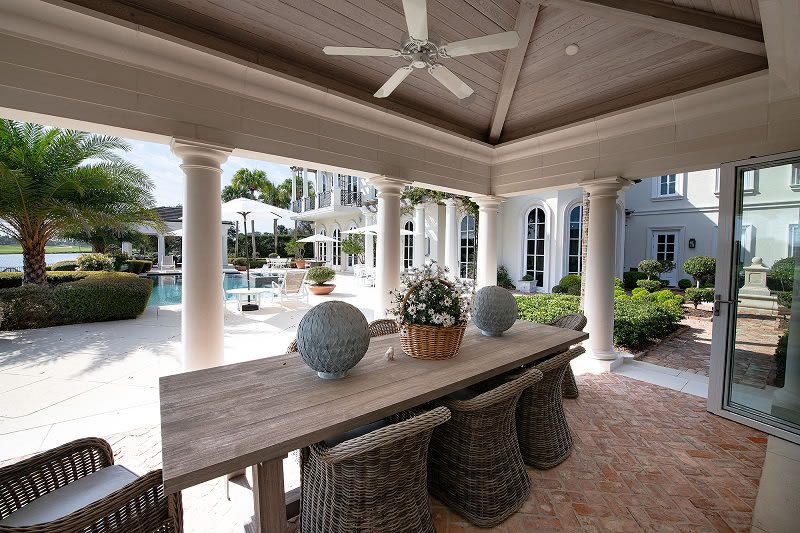 A thoughtfully designed and executed outdoor patio is a must for any outdoor hosting space. A superb way to connect your pool, outdoor fire pit, and other backyard features, an outdoor patio is a delightful feature in and of itself. Bring the advantages of interior comfort—seating areas, light, cooking—outside and create a central hub for backyard entertaining of any kind.

Patios created for private family use are generally smaller in size, but for entertaining, you can explore a variety of options to elevate your space. Consider the atmosphere you want to cultivate through furniture and decoration. Large umbrellas, porch swings, and daybeds can create a luxurious experience for guests, while installing a covered area can let you enjoy your patio even in the rain. Treat furnishing and decorating your outdoor patio like you would an interior room—don't forget to have fun with it!

Like a pool, installing an outdoor patio requires planning to ensure a premium experience. Contractors recommend using stakes and string to outline the potential area for the patio beforehand. Observe how the light falls over the area during the day and the amount of debris from falling leaves. Avoid installing the patio over a low area of the backyard, as collected water beneath can lead to weed and mildew growth.
Outdoor Kitchen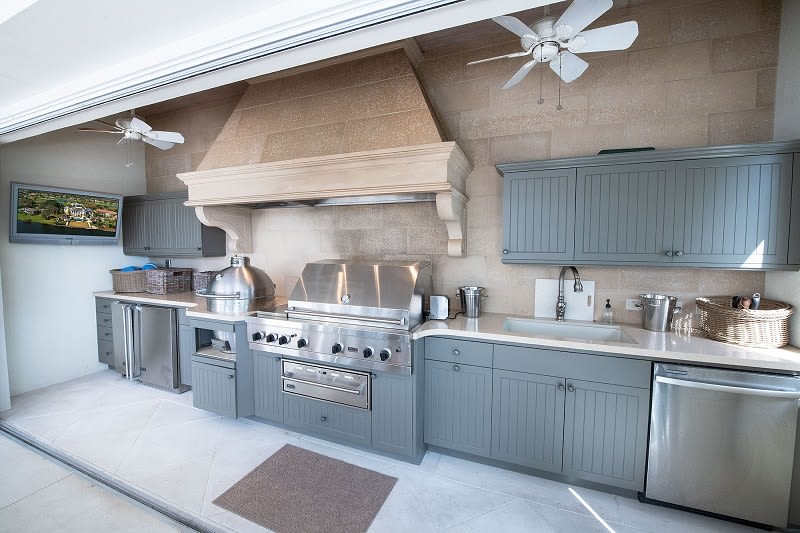 Some say an outdoor patio is as good as its kitchen, and they're not far off. The sights, sounds, and smells of outdoor grilling is synonymous with the pleasure of summer and homes in warmer climates, which means ferrying cooked food from the kitchen outside will simply not do.

A common setup includes a gas grill top, a 5-foot island, and a small refrigerator. With their durability and easy maintenance, stainless steel appliances are the standard, but there is much more you can do to style your outdoor kitchen to create your perfect aesthetic. A masonry-style kitchen made of brick and stone can complement your outdoor walls and chimney. A more contemporary design with sleek finishes of granite and polished metal can be very sophisticated. For a more lived-in ambiance, use stucco textures and matte finishes to cultivate a rustic look.

The benefits of outdoor kitchens aren't just for outdoor entertaining—installing one can increase the value of your home, allowing you to save on utility bills since your air conditioner won't have to work as hard to keep your house cool as it would with indoor cooking. Then there are the odors—not everyone likes the smell of cooking permeating their home. With an outdoor kitchen, that's never a problem.

Outdoor kitchens are best installed close to the house. This makes it convenient when carrying ingredients from your kitchen and is also less expensive since the utilities needed for your outdoor kitchen will run a shorter distance. As well, the pre-existing walls of the house can provide structure.
Surround Sound
What's entertainment without music? Sure, you can bring out a portable speaker, but the sounds will be localized, and competing speakers are never fun. A properly installed surround sound speaker system will give you greater control over your events, allowing the music to be uniformly heard throughout the party.

Since outdoor speakers will be exposed to the elements, they will have to be installed with the area's climate in mind. More temperate climates have the advantage of not worrying about frost damaging the electronics, but perception is a consideration nearly everywhere. Fortunately, the audio market has many excellent weather grade products that are suitable for your location. It never hurts to speak with a consultant beforehand to ensure your outdoor speaker system remains a hassle-free feature of your home.

As with all outdoor entertainment features, a speaker system will only increase the value of your home and attract buyer interest from those who like to entertain. You don't have to use this system only for parties either. Treat yourself to your favorite music—both indoor and outdoor— when you have the house to yourself.
Fire Feature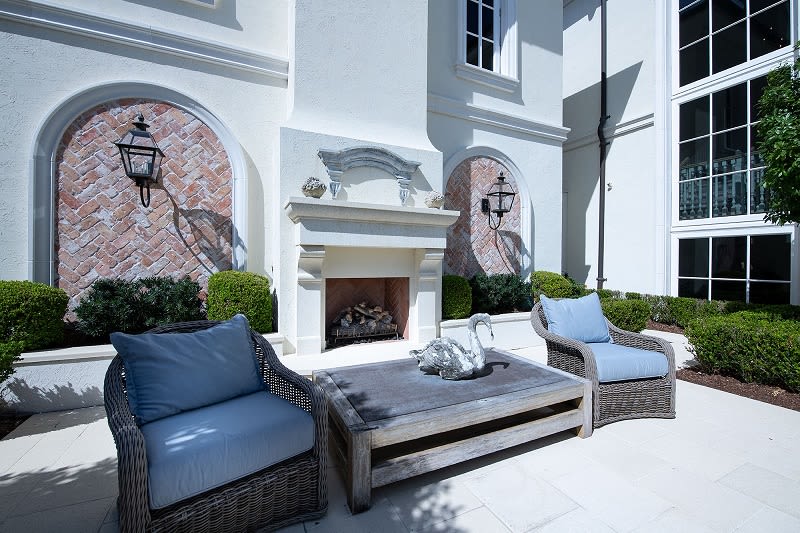 An outdoor fire feature can turn a cold and dark backyard into an inviting haven at night. Instead of hustling inside for warmth once the sun goes down, guests can curl up with a blanket and watch the stars come out with the comfortable heat of the fire.

Like most backyard features, a fire feature can be adapted and scaled to fit your needs and the layout of your space. Think about how you want it to function in your backyard: do you want it to be the central feature? Or do you want it tucked in a corner, functioning more as a private space in a larger outdoor gathering? Answering these questions will help determine the scope of the installation project.

One should also consider the environment around the fire pit. A fire at night can cast harsh shadows, impairing visibility in the area. Providing enough additional light without affecting the campfire mood is key. Hanging string lights around the fire pit is a fashionable and simple solution that will elevate the intimate atmosphere.

Then there's the fire itself. Do you value a consistent, hassle-free flame? Or a glorious crackling fire? Installing a natural gas or propane hookup can provide an instant fire while constructing a classic wood fire pit will provide the crackling and smoke fire pits are known for.

If you're looking for more home improvement tips for outdoor entertaining or are searching for homes for sale in Atlantic Beach, feel free to contact us. Our team would love to show you Neptune Beach homes for sale and Jacksonville Beach real estate.