The lush grass of the fairways. The palm trees swaying in the ocean breeze. The anticipation as a golf ball sails through the air. These are common sights in Ponte Vedra, where the natural beauty and temperate climate make it ideal for golfing. With many high-end golf courses in the region to choose from, Ponte Vedra is undeniably one of the best golf spots in America.
TPC Sawgrass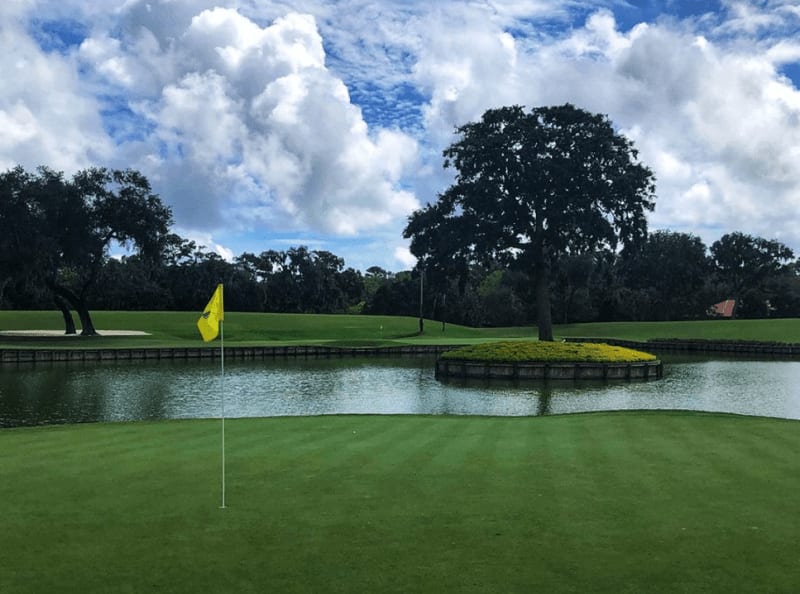 Although it features a few fine dining options and a clubhouse, TPC Sawgrass forgoes the spas, beach clubs, and other amenities of traditional country clubs to focus all of its energy and resources into creating one of the most spectacular golfing experiences in the country, if not the world. Self-described as "the world headquarters of professional golf," TPC Sawgrass is home to the Players Stadium Course designed by Peter Dye in 1982.

The two immaculately-maintained golf courses at TPC Sawgrass are perfect for golfers who are serious about their game or for enthusiasts who want to play some rounds on an unrivaled facility. The course is challenging, with no two holes ever playing in the same direction, and designed not to favor any specific type of player. The 17th hole is notorious in the worldwide golfing community, legendary for its treacherous island green. With numerous oak and palm trees lining the course, the atmosphere is tranquil and luxurious.

In addition to its full-service shop, TPC Sawgrass offers a robust and comprehensive golf instruction program. Todd Anderson, the director of instruction at the club, is one of the top instructors in the United States. The program assesses which skill level each player is at and then develops a specific plan tailored to their specific wants and needs. Golfing is serious business in this exclusive community, and its dedication to the sport puts TPC Sawgrass in a league of its own.
Ponte Vedra Inn & Club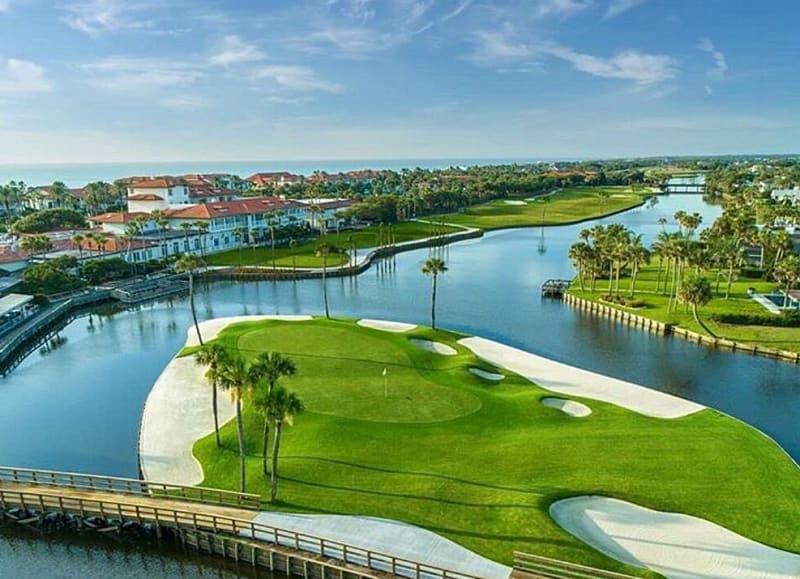 Since it opened in 1928, the Ponte Vedra Inn & Club has maintained an exceptional golfing resort. Its famed Lagoon Course was designed by renowned architect Bobby Reed and has been recently renovated to elevate its already magnificent design. Complementing its proximity to the Florida coast, water plays an influential role in the design of the course, which features several tranquil lakes and lagoons surrounded by lush vegetation.

The world-class spa at this private community is arguably its most impressive feature. Praised by Vogue, InStyle, and Oprah, the spa has gained an exceptional reputation with over 100 available treatments. From therapeutic massages to purifying wraps and hot paraffin manicures, members spoil themselves to the absolute fullest at this extraordinary facility. With soaring ceilings and Mediterranean-style décor, this spa is an irresistible treat for anyone.

Ponte Vedra Inn & Club is also home to a Tennis Resort, which is nearly a country club in and of itself with a patio and lounges, a full sauna with a steam room, jacuzzi, and pools, and a large clubhouse. Featuring USPTA teaching professionals, you'd be hard-pressed to find a better place in the state to practice and play tennis. For dining, the resort has over a dozen options ranging in style and atmosphere. Highlights include Surf Deck Grille and The Oasis, which are both located on the edge of the beach and serve coastal cuisine.
Sawgrass Country Club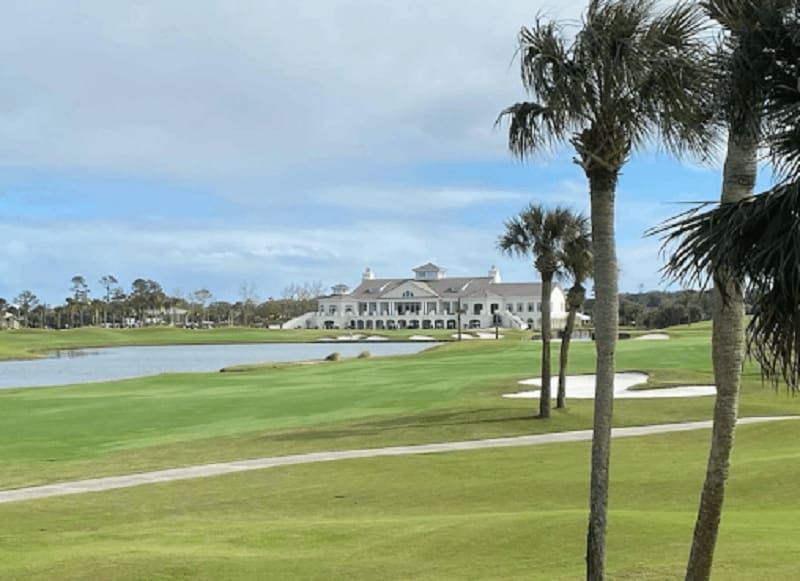 Located adjacent to the Ponte Vedra Beach, Sawgrass Country Club takes full advantage of the idyllic setting Florida is famous for. Members of this private community get to breathe in the refreshing sea air as they line up their tee shot and indulge in the club's many luxurious amenities.

Having undergone a master golf renovation in 2013, the Sawgrass golf course contains three separate 9-hole layouts—all featuring incomparable greens that roll quick and pure. This course was the original host of the PGA Tour's Players Championship, and its Robert Walker design is in exceptional condition. Features include several water hazards, bridges, cart paths, and irrigation systems to ensure a premium golf experience.

Sawgrass's private gated community includes an impressive selection of villas and patio homes. With Ponte Vedra's quality educational system, the club has developed several kid-friendly dining, summer camp programs, and other facilities to cater to their influx of families. Nevertheless, Sawgrass remains committed to providing outstanding hospitality for adults as well, offering a variety of dining options ranging from formal to casual. As with all first-rate country clubs, members also enjoy state-of-the-art fitness facilities, multiple pools, and a stunning beach club.
The Plantation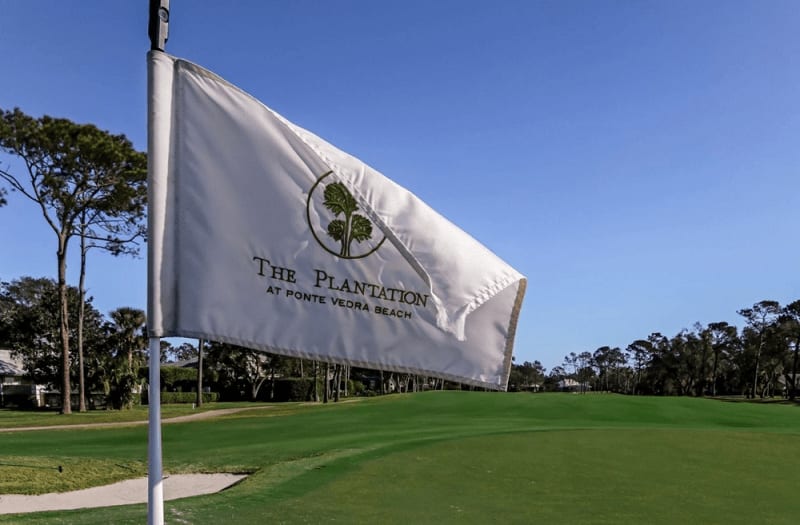 At the southern tip of Ponte Vedra lies one of the area's most luxurious and elegant clubs. The Plantation provides a luxurious, all-inclusive residential experience, highlighted by their par 72, 7,141-yard signature champion golf course. With recent renovations that include new technology to accommodate current trends, this members-only course offers a rarefied golfing experience.

Over 500 private homes make up The Plantation's exclusive community. To complement the area's natural beauty, homes here feature ancient oaks and hardwoods and are placed strategically around the golf course, lakes, and canals to create a beautiful landscape. With St. John's School District rating #1 in the state and some of the best healthcare facilities in the country, The Plantation is ideal for families.

Members enjoy a remarkable array of fine dining and casual restaurants, fitness centers, and golf shops, but its other amenities are what set The Plantation apart. The club features a Croquet Lawn—a fantastic way to socialize with other members while playing this relaxing game. Travel farther east on the property, and you'll arrive at the private beach club. Members not only enjoy the white sands and blue waters of Ponte Vedra Beach, but they can also relax on the lounge chairs surrounding the club's Junior Olympic-sized pool.
Marsh Landing Country Club
Located only minutes away from Ponte Vedra Beach's sparkling waters and a short drive from the delights of Downtown Jacksonville, Marsh Landing Country Club is perfectly situated to take advantage of the best the region has to offer. Reminiscent of a lush nature preserve, this club's setting features a plethora of Florida wildlife and scenic landscapes. Marsh Landing is an excellent place to relax, socialize, and play golf.

This members-only establishment takes care to cultivate a superior golf club. The driving range, putting greens, and other fairways are maintained in excellent condition, winding through beautiful lagoons, tidal marshes, and pine trees. The club also offers competitive programs for men, women, and juniors and a full-service golf shop selling a variety of high-end apparel.

With several dining and fitness centers, family and friends can spend the whole day enjoying Marsh Landing. The on-site restaurants feature excellent service and menus with incredible entrées and desserts. At the fitness center, members can choose between the club's impressive collection of cardio equipment, free weight rooms, and a myriad of weekly fitness classes.

If you're looking for more information on private golf courses or are searching for homes for sale in Neptune Beach, please feel free to contact us. Our team would love to show you Ponte Vedra Beach homes for sale and South Ponte Vedra real estate.